Blog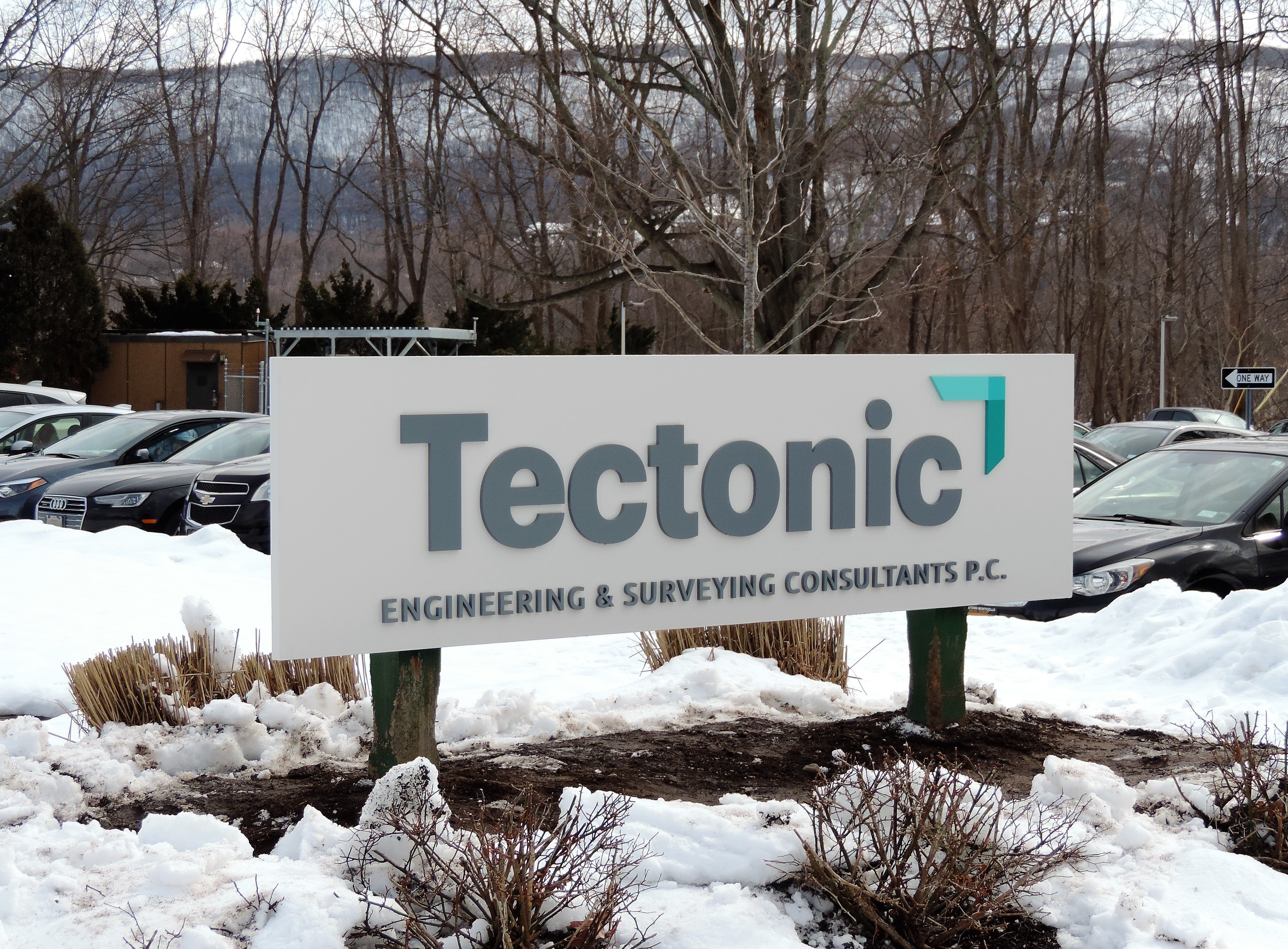 Posted in:
Tectonic Shines with New Monument Sign in Mountainville NY!
Located at 70 Pleasant Hill Road in Mountainville NY, which is a hamlet in the western section of the town of Cornwall, sits the corporate offices of Tectonic Engineering & Surveying Consultants P.C. Tectonic is a thought leader in the field of engineering. Specializing in a broad range of disciplines, the firm routinely supports mega projects, Fortune 500 companies, and municipal building and facility improvement projects. When the business' management team contacted Gotham Signs & Graphics, a representative placed an order for a monument sign in Mountainville NY.
A New Monument Sign Attracts Attention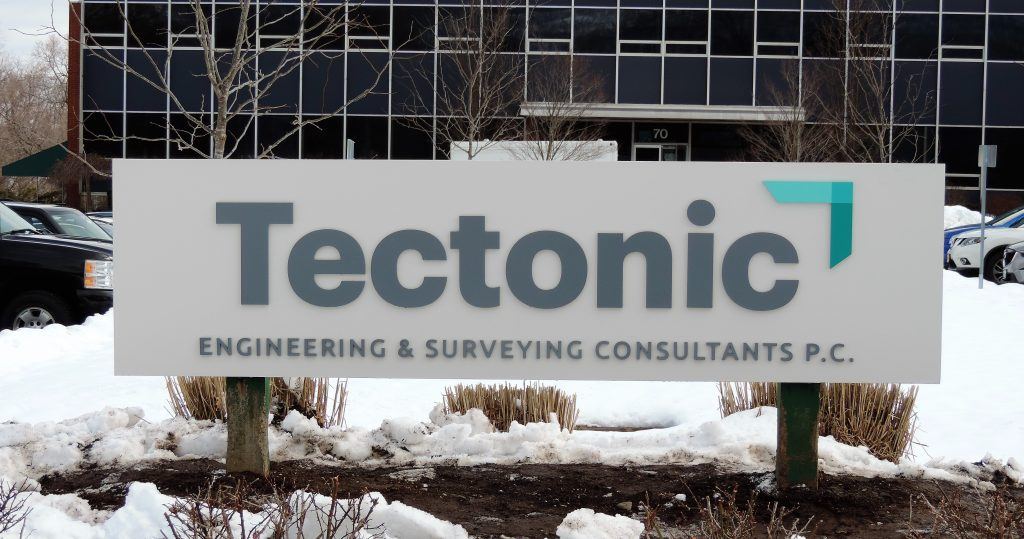 Monument signs address commuters. For this reason, we typically place them near the parking areas within easy view of the lot's entrance. The marker alerts drivers that the company is ahead. They make it possible for motorists to change lanes. Without these signage solutions, it is easy for customers to keep on driving.
But this sign, like so many others, must be fully customized to your company's needs in mind. Case in point is the new monument sign we designed, manufactured, and installed for Tectonic. There were already two stone posts in place. All the firm needed for the product was a new panel. After consulting with the client, we designed an acrylic board.
It features the company's name, logo, and tagline. The appearance is identical to what prospective clients might see on the website. Dimensional letters feature the same colors as the corporate persona online. The product is sufficiently large that it stands out in the landscape. As a result, it makes wayfinding a snap.
How to Choose a Monument Sign for Your Business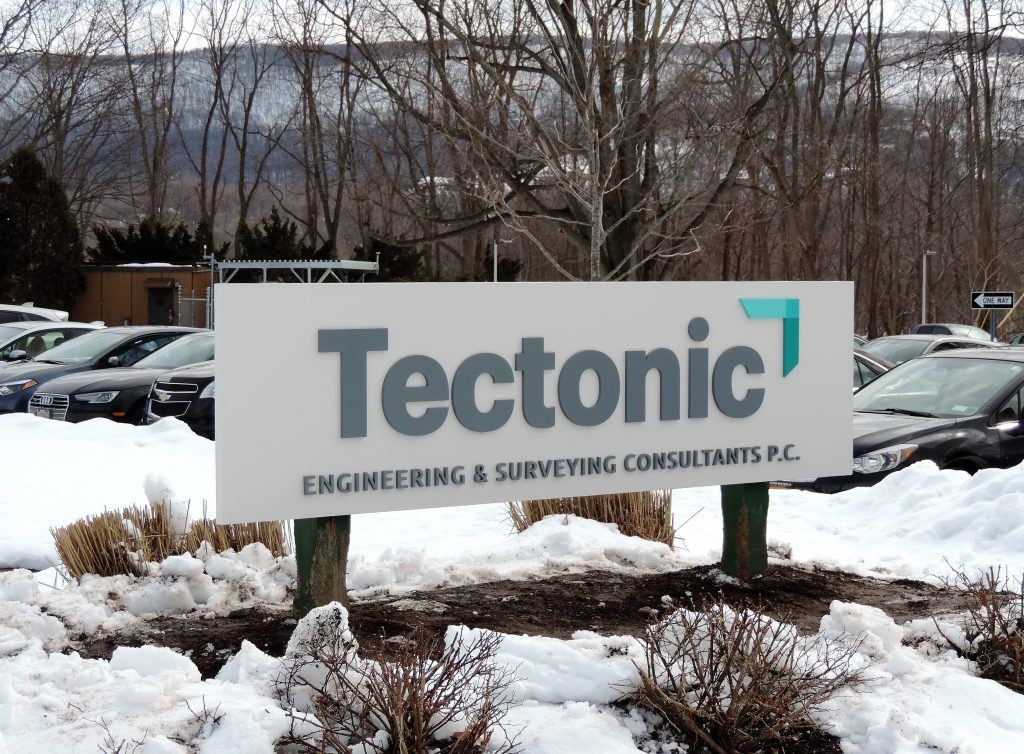 We recommend adopting the sign to suit the architectural design of your building. That said, it is possible to mix and match styles such as traditional brick building facades and high-tech aluminum and acrylic, lit monuments. When discussing new signage, we usually visit your venue for a site survey.
Site selection. We help you choose the ideal setting for the sign. Because it addresses motorists, it must be easily visible from the street. If you do business in an area where competitors also have monument signs, we assist with the selection of a site that stands out.
Size. Our technicians take measurements to help you select an ideal size. We take into consideration the limitations local zoning codes place on your company. Typically, we start by gauging the traffic speed at your location, pick out the right height of the lettering, and work backward from there. This process ensures that consumers notice you.
Illumination. Some business owners like to have a sign that lights up after dark. Others do not need this additional technology. Still, others appreciate the versatility that LED reader boards bring to a location. We help you make the right choice.
Material and style. Choosing this aspect of the sign can seem complicated. However, it does not have to be that way. Our experts show you what works in your area, what competitors are selecting, and how you can stand out from everyone around you.
Gotham Signs & Graphics serves the business communities in and around  Mamaroneck, Mountainville, White Plains, Scarsdale, New Rochelle, Port Chester, Harrison, Yonkers, Rye, and Westchester County, NY. Contact us today to discuss the setup of a monument sign on your property!