Blog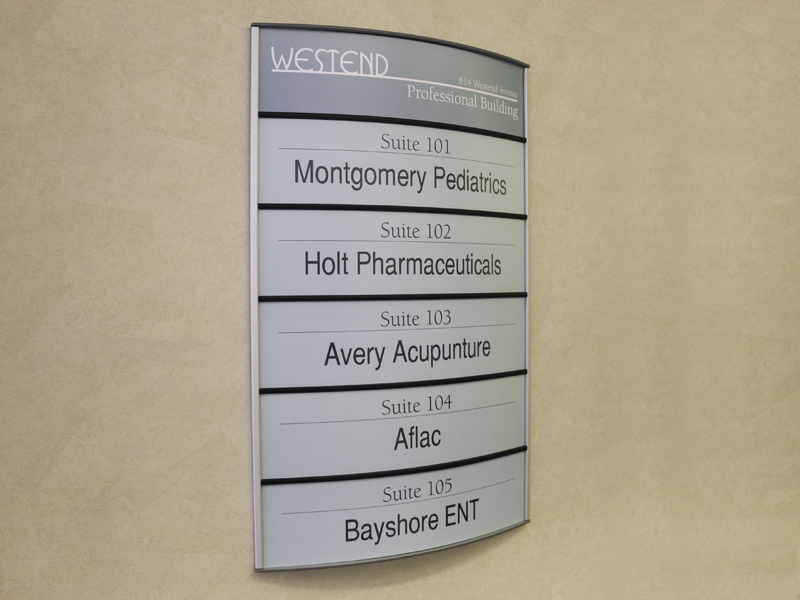 Posted in:
Types of Interior Directory Signs for New Rochelle NY Office Buildings
Wayfinding signs help your customers or clients find the locations that they are looking for. It is not enough that the consumer made it to the building. Frequently, additions, confusing suite setups, and multi-story departments can make it difficult for someone to locate a business. With the right interior directory signs for New Rochelle NY, buildings, wayfinding becomes quick and easy.
A Map Offers a Visual Presentation of a Floor Setup
There are multiple suites on the same floor. Each houses a different department or business. A client is looking for one of the offices but is unsure how to locate it. A visual representation of the floor spells out the locations of the suites as well as the names and specialties of professionals who do business there. Doing so fulfills three functions.
Help customers orient themselves. If your venue does not have a receptionist's desk, this type of sign is the next best option. It offers easy-to-read directions that send clients left or right, depending on whom they visit.
Provide safety directions. Include notations for accessible exits, which help people in the case of an emergency to evacuate safely.
Advertise other services. A consumer may be visiting your location for one type of service or business transaction. Seeing the other departments that are there, s/he may decide to engage in other business transactions with your firm as well.
Freestanding Directory Pylons are Movable and Ideal for Busy Venues
In a hospital, department store, airport, or university office building, the freestanding pylon lets you display the same wayfinding details on two, three, or four sides. If necessary, you can move it into the flow of traffic, which enables visitors from all directions to see the information. We recommend combining a map display with written details. Doing so supports visual learners who prefer sketches to the printed word.
Standard Wall-Mounted Directories Come in One, Two, or More Panel Setups
One of the most common types of interior directories is the wall-mounted setup. It comes as single-panel displays or multi-panel systems. Typically, consider adding multiple panels when you are featuring a large number of suites and business listings. The consumer should be able to get the information s/he needs at a glance. If you make the font too small to fit everything on one panel, it defeats the purpose.
Consider displaying a wall panel that features your corporate details at the top complete with iconic font and logo. From there, you list the various suite numbers. Slightly curved panels are easier to read. We recommend adding a non-glare finish that makes the directories readable even if there is a light source directly aimed at the sign.
Ordering Your Interior Directory Signs for New Rochelle NY
Which option is right for you and your location? Some business clients have had excellent success by combining these popular directories in one place. If you are unsure about the best option, contact our graphic arts experts. Gotham Signs & Graphics serves the business communities in and around New Rochelle, Mamaroneck, White Plains, Port Chester, Scarsdale, Harrison, Rye, Yonkers and all of Westchester County as well as Fairfield County, The Bronx, and Manhattan.