Blog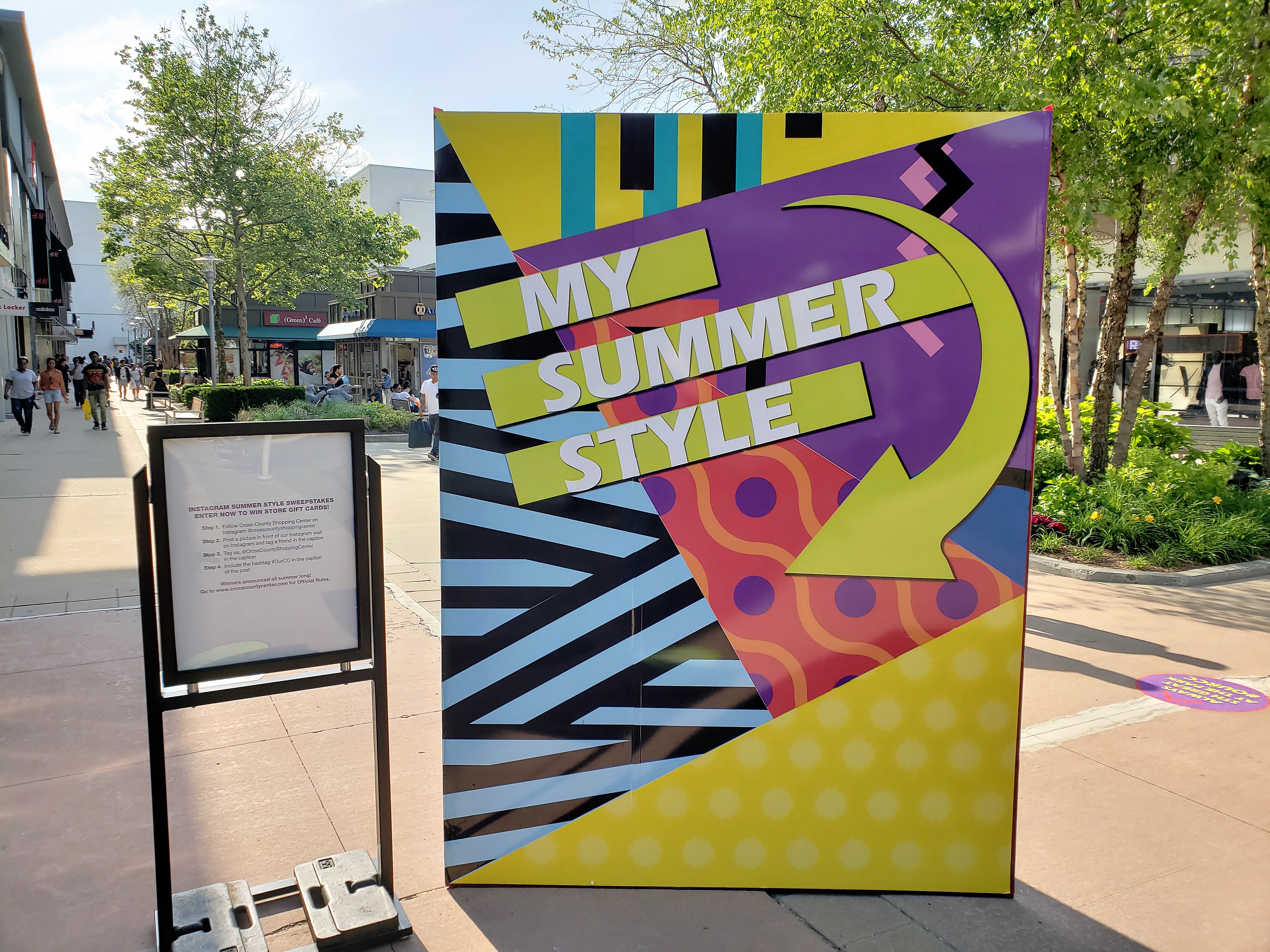 Posted in:
Shopping Center Uses Bold Advertising Signs in Yonkers NY!
You find the Cross County Shopping Center at 8000 Mall Walk. Concerts, restaurants, and great deals at a broad range of stores draw the crowds. To emphasize the summer season with its styles and offers, the mall management team contacted our sign shop with an order for customized advertising signs in Yonkers NY.
Vinyl-Clad Boards Get the Attention of Shoppers
Bold and bright are the hallmarks of this advertising campaign. It puts shoppers in the mood to consider their summer purchases. Style is a focal point. Rather than pinpointing one style that has a slim niche following, the boards encourage the shoppers to follow their personalities.
There is something for everyone. One board emphasizes the message through colors. The other one does so through lettering. The third one is an excellent backdrop for taking pictures. It features a black and white motif. The boards are tall and wide, which makes them easy to spot even from a distance.
Attention Getters are a Must When Advertising in Yonkers
Consumers are sophisticated. It takes more than a small signage setup to encourage the impulse stop. In fact, many of our business clients have had excellent with signage pairings.
Multiple boards. Take a page from the playbook of the Cross County Shopping Center, and place various marketing boards on your property. They catch the eye and deliver your message in style. Mixing and matching multiple messages is a crucial element to making this setup work.
A-frame and window graphics. The A-frame forces foot traffic in front of your business to slow down. People have to navigate around the sign. When you pair it with informative window graphics, it gives these shoppers the information they crave. In fact, the more information you put up with window graphics, the more effective your A-frame sign becomes.
Building sign and café barriers. Your building sign is a combination wayfinding product and marketing tool. Add café barriers to the mix, which put the brand colors and advertising messages closer to the consumer's eye level. The combination of both signs is ideally suited for a splash of color and images.
Selecting the Right Advertising Signs in Yonkers NY
Which signs are right for you? Moreover, which color combination is a good choice when you have a specific message that you want to communicate? Our graphic artist can assist. This expert helps you put a marketing message into a tangible graphic with a lettering component. Our team collaborates with you on the material selection as well as the placement of the signage.
If you are unsure about your presentation, we can design a signage suite from the ground up. The team handles the process from inception to final installation. If you already have an idea or even specs on hand, we can manufacture the product. We gladly also handle the installation.
In some cases, we work with business clients who received their specs from third parties. Our shop can obtain the files and create the product according to the information your vendor sends us.
Contact us today to get started on your summer marketing project!